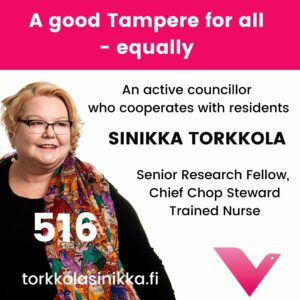 Ten years in municipal politics in Tampere has taught me that even a single councillor can influence decisions by getting to know the issues thoroughly. I have been one of the most active councillors in the current term of office. I have raised the residents' concerns in discussions and decision-making, for example, by filing questions and initiatives at the Council. Most of them have been about the quality and accessibility of social and health services, but I have also highlighted ways to improve the transparency of decision-making, listening to the residents, and to expose and root out corrupt practices.
For example, because of my initiative to prevent speculation with the city's rented plots, the city changed its rental practices. The city introduced a rental application form, which clarifies the intentions of the applicant in renting a plot, so that the application for a rental right is made for the purpose of passing it   to a third party.
During this term of office of the Council, I have also been a deputy member of the City Board and a member of the Consolidated Group Committee, as well as a member of the Boards of the Pirkanmaa Hospital District and the Tays Support Foundation.
I work as a researcher at Tampere University and serve as the Chief Shop steward of JUKO, the Negotiation Organisation for Public Sector Professionals. I have a PhD in social sciences and I am a trained journalist and nurse. I live in Tammela with my husband and cat. I spend most of my free time participating in the positions of trust I hold. My favourite hobby is editing the 'Vasen Kaista' online magazine
Services, the environment, and open decision-making
One of the most important tasks of the City Council is to decide on the services provided to residents and the urban environment. As a councillor, I work to
– get all people in Tampere access to the social, health, cultural and sports services they need.
– have the people of Tampere live in a pleasant urban environment, which is built with a respect for history and nature
– the people of Tampere are listened to in decision-making and the reasons for decisions are openly explained
Keep in touch: s.torkkola at gmail.com, mobile 044 5252736